Meet Jer-Lindy Farms.
You can't discuss Redhead Creamery and our amazing cheeses without first recognizing Jer-Lindy Farms and its owners, Jerry and Linda Jennissen, the redheaded cheesemaker's parents. Acknowledged for their environmental and sustainability initiatives, Jer-Lindy Farms is always exploring and implementing innovative ways to marry agriculture and technology to produce a safe, healthy, profitable product.  However, this forward-thinking was not top of mind when they originally bought the farm just before the farm crisis of the 1980s.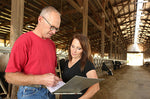 Jerry and Linda met at a calf show when they were kids and by 1979 had gotten married and started farming together.  Jerry had purchased 32 head of cattle with a beginning farmer's loan and was renting a barn to house them. When they purchased what would become Jer-Lindy Farms in 1983 it had no running water and the few out buildings it did have needed to be remodeled for dairy cows. These changes obviously took a lot of funds, and when the work had been completed, the market took a turn. They both had to take off-farm jobs (for the next 19 years) to help sustain the farm and their growing family of four lovely red-headed daughters.  But lots of love was put into the operation and today Jer-Lindy is a 240 acre, fully-functioning, modern facility housing 200 Registered Holstein and Brown Swiss dairy cows and a growing cheese operation which you can read more about here.


Building a buffer strip along the drainage in 2002, which runs the length of the farm and was then seeded with grass to ensure no runoff from the fields make it to the waterway, wetlands or pond. (MN state passed similar regulations for buffer strips in 2016, 14 years after Jer-Lindy Farms first implemented this practice.)

Using manure from the dairy as fertilizer as far back as 2003. This is a common practice allowing them to stop using commercial fertilizer and thus save costs.

Reducing electricity use and cost as a result of an off-peak hour program, high efficiency boilers, and LED lighting in the freestall barns, farmyard and inside the cheese plant.

Piping whey from the cheese plant back to the feed center, where it is mixed in and fed to the dairy cattle cuts down on both feed costs and waste.

Utilizing a weekly monitoring service to scan for weeds and harmful pests saving unnecessary herbicide and pesticide application.

Using a soil sampling method called "gridding," which reduces the amount of lime applied to the alfalfa fields, only applying it in the areas where it is needed.
Awards / Certifications :

2017 The Innovative Dairy Farmer of the Year Award sponsored by International Dairy Foods Association (IDFA) and Dairy Herd Management.
2016 U.S. Dairy Sustainability Award for Outstanding Dairy Farm Sustainability
2016 Minnesota Agricultural Water Quality Certification
2002 Min­nesota Milk Pro­duc­ers Asso­ci­a­tion Dairy Pro­duc­ers of the Year

2001 Stearns County Farm Fam­ily of the Year by Uni­ver­sity of Min­nesota Exten­sion