A childhood cheesemaking dream becomes reality.
Redhead Creamery made our first batch of cheese in 2013 and by the end of 2014 we had built and opened up our own cheese making facility right here on our family farm, Jer-Lindy Farms.  But the ridiculously good cheese you taste today in our cheese shop is the culmination of years of study, trips to artisan cheese plants, funding campaigns, testing, waiting, sampling and starting over. Here, is the story of Redhead Creamery.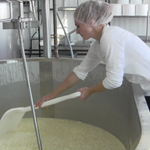 There's an all-too-common story of the younger generation not being able to join the parents on the dairy farm because it's typically too costly to scale to the point of sustaining two (or more) families.  This was, in fact, the story of my dad, Jerry, of Jer-Lindy Farms.  So when I (Alise Sjostrom) returned home at the tender age of 16 from a 4-H youth trip to Wisconsin announcing that not only did I plan to stay on the farm but that I wanted to expand into cheese making, my parents, while encouraging, weren't quite sure if this dream would become reality. Little did my parents know that they would one day become partners with my future husband and I in the Redhead Creamery.
Encouraged to learn everything I could, I developed my own college curriculum at the University of Minnesota revolving around cheese and dairy food quality and trained at the Ver­mont Insti­tute for Arti­san Cheese. My passion and dream of cheese making continued to grow and I 'lovingly' became known as "Cheese Alise" to many of my friends and family.

Soon after graduation I took a job in the retail grocery world to better my understanding of the entire 'food-chain' of cheese. For the next 5 years my husband, Lucas Sjostrom, (who thankfully shares my love of the dairy industry) and I lived and worked in Vermont and Wisconsin, which are cheese havens! We even traveled to Switzerland and Brazil during high school and college to gain more insight. Many wonderful cheesemaker/owners took me under their wing through those years and helped build my knowledge and understanding of the cheese making tradition.

By 2012, more than a decade after I announced my future cheese plans to my parents, Lucas and I started making plans to head back home to my family farm in Minnesota and start our own family. Now, the real work was about to begin.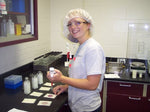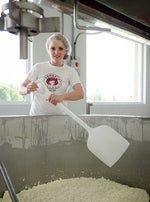 The plans for my dream cheese facility were completed but this required moving existing farm structures, building a pipeline under the existing milk parlor so milk could flow directly to the cheese room, a new septic system, and oh yeah… the enormous cost of building a whole new cheese plant and storage caves. But thanks to many people, including complete strangers through our Kickstarter campaign, we raised more than $41,000, which was used as seed money to secure the loans and grants to fully fund the facility. To this day many of our cows have names given by our awesome contributors through Kickstarter. You can watch my young, naive self in our original plea for funding here.

Finally, construction on Redhead Creamery began. But between permit issues, weather delays, subcontractor work schedules, a malfunctioning cheese vat, and bad batches of test cheese it seemed that my dream may never come to fruition! Finally, milk flowed into the cheese room from the milk parlor for the first time in the fall of 2014 and our first batch of cheddar went into the caves that Halloween day.

Today, we make cheese 2-3 days a week and have expanded to include an on-site Cheese Shop. We also give tours on Fridays and Saturdays for those interested in learning more about where food comes from and how cheese is made.

So in the end, I believe this is really just the beginning of our cheese love story. All of us at Redhead Creamery are thankful for our journey thus far and continue to grow and love what we do each and every day.

- Alise Sjostrom
President & CEO of Redhead Creamery
(Resident Redhead)
So where can you find our ridiculously good cheese?

Our cheese is available through our online store, in our on-site Cheese Shop and a few specialty markets in Minnesota, North Dakota, South Dakota, Wisconsin and Illinois.  You can find a full listing of our markets here.  And if you are interested in carrying our cheese in your retail location you can contact us here and fill out a wholesale reseller request.