Alise Sjostrom Interviewed by Initiative Foundation - Redhead Creamery Spirits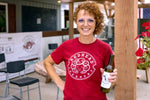 Interviewed by Maria Surma Mank of ifound.org
In this article, Alise of Redhead Creamery is interviewed about venturing into a surprising new product line: spirits made from milk.
Co-owners Alise and Lucas Sjostrom have introduced "araga", a spirit derived from whey, a byproduct of cheese production. Araga, clear and akin to vodka, is a popular drink in Mongolia and Eastern Russia. Lucas Sjostrom has been pioneering the technique of creating araga, researching extensively and completing courses to master the art.
The Creamery's unique onsite production process encompasses milking, cheesemaking, filtering, and distillation, a combination that's unparalleled worldwide. They aim to launch their distillery by the 2023 holiday season, offering a novel experience for customers.