Alise Sjostrom Interviewed by WJON News - Redhead Creamery to Add Distillery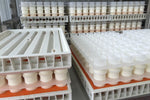 Here's a recap of the interview from WJON!
You can read more on WJON here.

Redhead Creamery, co-owned by Alise Sjostrom, is set to expand its cheesemaking operations and introduce a unique milk-based distillery producing Araga, a rare Mongolian distilled spirit.
This venture will make Redhead Creamery one of the few facilities worldwide to produce Araga, and possibly the only one to handle all processes on-site. Besides the distillery, the creamery is expanding its restaurant to accommodate larger groups, with aspirations to host entire tour buses.
Construction is progressing, targeting a Christmas opening for the restaurant and early 2024 for the enhanced cheesemaking area. Currently, they offer tastings and dairy farm tours on Fridays and Saturdays.