Cheese Lovers Newsletter (1.27.2021): We won!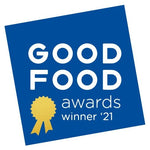 We won! What an honor to be part of about 25% of the Good Food Award Nominees (https://goodfoodfdn.org/awards/finalists/) - an honor on its own accord - to be named 2021 Good Food Award Winners (
https://goodfoodfdn.org/awards/winners/
). We want to especially thank one of our partners and cheese sellers, Beau Vondra of Look's Marketplace (
https://www.looksmarket.com/
) of Sioux Falls, who pushed us to get involved with our North Fork Munster. If you're ever in Sioux Falls, you've got to check out the grocery/bakery/meat shop/restaurant beauty that is Look's... and you can see our cheeses in the case and curds on the menu. The place is so great it was on Diners, Drive-Ins and Dives (
https://www.dinersdriveinsdiveslocations.com/looks-marketplace-south-dakota.html
) last Friday.
We are also extremely proud to be part of the Minnesota Good Food community. Mentor Alemar Cheese (
https://www.alemarcheese.com/
) has both "finalisted" and won in the past, and we join this year's fantastic winners -
• Far North Spirits–Roknar Minnesota Rye Whiskey–6-year (Spirits)
• Grandma's Gourmets LLC–Blueberry Lavender Jam (Preserves)
• Hobby Farmer Canning Co.–Hard Switchel (Elixirs)
• Isadore Nut Company–Chai Spice Pecans (Snacks)
The really fun thing is... we know good food. :) We have never met or tasted the good stuff at Hobby Farmer Canning Co., but we've long adored and carry Isadore Nut Co. Grandma's Gourmets LLC just started using our Brie, and we are working on a little project with Far North Spirits. More later... but CONGRATULATIONS to all the winners.
Michael Landis Webinar tomorrow with Alise
Want to see people in semi-real life talk about cheese? Join a webinar with cheese educator Michael Landis and our own Alise (FREE!) tomorrow, Thursday, January 28, at 3:00 p.m.
Register in advance for this webinar:
https://us02web.zoom.us/webinar/register/WN__2QxnkvnSQ2eU5nuvrFGe
Learn more about Michael Landis Cheese – Facebook Events
https://fb.me/e/UCs876K2
On tap at Redhead Creamery LLC:
Deliveries - Delivery deadline remains Monday, Midnight, each week of delivery.
None next week
Wednesday, February 10 - St. Cloud, Twin Cities and along Highway I-94
Wednesday, February 17 - Glenwood, Alexandria, Fargo, and Detroit Lakes route
Local delivery on Fridays or sooner– Brooten, Sauk Centre, Glenwood, Willmar, New London, and Spicer
Watch our "upcoming deliveries" page here -
https://www.redheadcreamery.com/delivery-route-info
- accessible from the homepage
UPS shipping continues on Wednesdays - ship order deadline by noon, Tuesday, each week of delivery.
Farm store - open Friday and Saturday Noon to 2:30 p.m.
Farm tours – paused until March
From the farm Q & A - taking a break ;)
Send in your questions! Our brains and hands are tired.
Linda, Alise, Jerry and Lucas