Jer-Lindy Farms LLC of Brooten, Minn., Named 2017 Innovative Dairy Farmer of the Year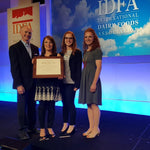 (Washington, D.C. – January 12, 2017)
Jer-Lindy Farms LLC of Brooten, Minn., has been selected as the 2017 Innovative Dairy Farmer of the Year by the award's co-sponsors, the International Dairy Foods Association and Dairy Herd Management magazine. The award recognizes U.S. dairy producers that apply creativity, excellence and forward thinking to achieve greater on-farm productivity and improved milk marketing.
"We're pleased to honor Jer-Lindy Farms with this award for two reasons," said Michael Dykes, D.V.M., IDFA president and CEO. "The owners found innovative ways to expand and keep younger family members engaged in the operations. They also have initiated several sustainability efforts to boost efficiency and profits while continuing to be good stewards of the land and the animals."

Jer-Lindy Farms may be one of the smallest operations to receive the award. Owners Jerry and Linda Jennissen manage the farm with 200 cows and nine part-time employees, while their daughter Alise and son-in-law Lucas Sjostrom operate the Redhead Creamery in a building across the driveway from the milk-room and parlor. Adding the creamery, which makes cheddar, brie and munster cheese, in 2013 gave the family the opportunity to expand and diversify the business without adding cows or acres.

The owners also have initiated a variety of sustainability efforts to maximize efficiency and profits while continuing to be good stewards of the land and animals. For example, Jer-Lindy Farms uses manure to fertilize its 258 acres, saving the operation $85-$160 per acre per year, which it previously spent on commercial fertilizer. The owners also found new ways to re-use water and heat, helping to minimize the farm's environmental impact. The whey byproduct from the creamery is fed to the cows, cutting down both feed costs and waste.
"The families' goal is to be innovative and sustainable while profitable, and they are setting an example of how small operations can achieve this goal," said Lucas Lentsch, CEO of Midwest Dairy Association, who nominated the operation.

Jer-Lindy Farms will be featured in the January issue of Dairy Herd Management magazine, and the owners will receive the award later this month at the Celebrating Excellence Luncheon during Dairy Forum in Orlando, Fla.

Previous winners of the Innovative Dairy Farmer title are Mason Dixon Farms, Gettysburg, Pa. (1999); Clauss Dairy Farms, Hilmar, Calif. (2000); Baldwin Dairy/Emerald Dairy, Emerald, Wis. (2001); Si-Ellen Farms, Jerome, Idaho (2002); Pagel's Ponderosa Dairy, Kewaunee, Wis. (2003); C Bar M Dairy, Jerome, Idaho (2004); North Florida Holsteins, Bell, Fla. (2005); KF Dairy, El Centro, Calif. (2006); Joseph Gallo Farms, Atwater, Calif. (2007); KBC Farms, Purdy, Mo., (2008); High Plains Dairy, Friona, Texas (2009); Haubenschild Dairy Farm, Inc., Princeton, Minn. (2010); Brubaker Farms, Mount Joy, Pa. (2011); Sweetwater Valley Farm, Philadelphia, Tenn. (2012); McCarty Family Farms, Rexford, Kan. (2014); and Hilmar Jerseys, Hilmar, Calif. (2015) and Holsum Dairies of Hilbert, Wis. (2016).

A call for nominations for the 2018 Innovative Dairy Farmer award will be released this summer.

# # #

The International Dairy Foods Association (IDFA), Washington, D.C., represents the nation's dairy manufacturing and marketing industries and their suppliers, with a membership of 550 companies within a $125-billion a year industry. IDFA is composed of three constituent organizations: the Milk Industry Foundation (MIF), the National Cheese Institute (NCI) and the International Ice Cream Association (IICA). IDFA's nearly 200 dairy processing members run nearly 600 plant operations, and range from large multi-national organizations to single-plant companies. Together they represent more than 85 percent of the milk, cultured products, cheese, ice cream and frozen desserts produced and marketed in the United States. Visit IDFA at www.idfa.org.

-->