Cheese Lovers Newsletter (2.12.2021): Valentine's Day Date-Alemar/RHC Soft Cheese Spectacular!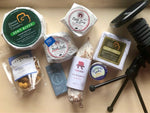 Hello Cheese Lovers!

Your Valentine's Day Date with us: Our Alemar/Redhead Soft Cheese Spectacular!

We've teamed up with Keith, Craig and Alex at Alemar Cheese (within the Food Building in Northeast Minneapolis) to bring you a few more boxes (10 boxes, to be exact) of our Soft Cheese Spectacular. You can pick them up tonight at the Food Building from Alex at Alemar from 3:30 to 6:30 p.m., or anytime today or tomorrow at Redhead Creamery HQ in Brooten.

Description: Redhead Creamery LLC and Alemar Cheese Company's Soft Cheese Spectacular!
This incredible cheese box is jam packed with four delicious soft cheeses and a few snacks all made right here in Minnesota. On Sunday, February 14th at 5 pm CST, Kerry Jerred from Forage to Fromage (https://www.foragetofromage.com/) will be hosting a virtual tasting with special guests Alise from Redhead Creamery and Craig, Keith, and Alex from Alemar Cheese Company (http://www.alemarcheese.com/)! We'll talk about how the cheese is made, where the molds come from and share recipes for each cheese, so you can enjoy them in fun new ways (because let's face it, that's a lot of cheese). Bring your appetite, your questions, and your love for soft cheeses!

From the Farm Question: What do you do differently on the farm when it is so cold?

Answer: The good news is, the cows are well taken care of; the bad news is the equipment has it rough.

Generally speaking, up to 40F below "Real Feel" cows don't have much of a concern. Even below that, they'll find ways to stay out of the wind and to huddle together in the sun (if they can find it). Keep in mind, cows are native to many parts of Eur-Asia, so Lucas has seen cows frolic in the Russian winters and you can find YouTube videos of them in Siberia.

It's the equipment that has trouble. Luckily, we just got the insulated garage doors on our new heated side of the shop. So, in theory, we can keep the two skid steer loaders, two tractors, manure spreader and feed mixer (called a T.M.R. or total mixed ration mixer) warm overnight. If we can keep their hydraulic oil and other important parts moving and warm, this may be the best super-cold winter ever. ;-)

The other issue is manure. We want to put all our manure into our lagoon year-round. So we schlep it over to the manure spreader and hope to put it in the lagoon... but when it is as cold as it will be this weekend we cannot do that. So, we make mini-mountains of manure on our ramps that will eventually thaw and slide into the lagoon. Hope you weren't enjoying a bit of cheese while reading this.

Actually, one thing we've needed to do is install electric heaters in both our new cheese refrigerator and our cheese van. They only need a little bit of heat, but we don't necessarily like our cheese to be at -21F for very long.

Pray for us this weekend - we'll do the best to keep the cows milking and the cheese aging!
Stay Cheesy,
Linda, Alise, Lucas and Jerry