Cheese Lovers Newsletter (2.22.2021): Happy Birthday Dr. Seuss!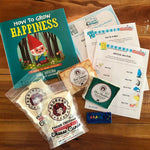 Hello Cheese Lovers!
One thing we love, is reading. We especially love Dr. Seuss. When the Sjostrom family took vacation to San Diego a few years ago, we headed to La Jolla just to see where the real Dr. Seuss lived and some of his originals in an art gallery. He has made reading fun for so many.
In honor of Dr. Seuss' birthday, Read Across America Day, and I Love to Read Month, we put together an interactive and educational cheese box! In this fun-filled box, you and your favorite kiddo(s) will receive:
• a half pound of Redhead Creamery's Red Temper Honey Chipotle Cheddar
• a half pound of Redhead Creamery's Blue Cheddar
• two 8 oz bags of Redhead Creamery's Ridiculously Good Cheddar Cheese Curds
• How To Grow Happiness by Kelly DiPucchio and Matt Kaufenberg (Matt is an illustrator from Alexandria, Minn.!)
• Seussville activity sheets
• a pack of crayons
• and a surprise Redhead Creamery Bookmark and Coloring Page!
• Email a video or picture of your coloring sheet to info@redheadcreamery.com for the chance to win a free cheesy plush!
• We can't wait to see your masterpieces!
Grill or Be Grilled pre-orders available!
It's the most wonderful time of the year.... National Grilled Cheese Day! Obviously, this ooey gooey holiday means a lot to us. For the past few years we were able to have a Grilled Cheese Dinner, this year we're bringing it to you. This box comes jam-packed with everything you need to make three different varieties of grilled cheese (that's six sandwiches)! Join us at 4 pm on Saturday, April 10th for a live grilling session with the Redhead Creamery Fam while we share recipes, trivia, and answer some of your questions! If you are unable to join us, don't worry! There will be a link to the recording! This is one of our most popular events/items of the year, supplies are limited. Options include getting The Great Grilled Cheese Book!
Order window closes April 4th. Boxes will be shipped or delivered on April 7th.
FREE SHIPPING NATIONWIDE!
This box includes:
• Redhead Creamery's Mozzarella Slices
• Redhead Creamery's Clothbound Garlic Cheddar Slices
• Redhead Creamery's Pimento cheese spread
• Redhead Creamery's Little Lucy Brie
• Redhead Creamery branded glass
• Your choice of a drink mix!
• La Quercia's prosciutto
• Quince & Apple's Peach Chamomile Preserves
• Domaine des Vignon's Cornichons
• a half loaf each of Backwards Bread Bakery's Roasted Garlic Sourdough and Honey Cracked Wheat bread
• Lucky's Roasted Onion and Black Pepper Honey Mustard
• Recipe Cards
From the Farm Question: Send more questions! We'll be back in two weeks!
Stay Cheesy,
Linda, Alise, Lucas and Jerry