Cheese Lovers Newsletter (2.26.2021): Palmitic Oil feed impacting butter?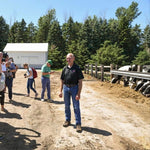 Hello Cheese Lovers!
We'll take a break next week, but we got a timely question so we put our newsletter together a week ahead of schedule.
Opening plans – stay tuned!
We essentially have a plan that looks like this: if it's hot, pay attention! As things warm up on near-coming Fridays and Saturdays we'll post on our Facebook page and via this newsletter that we'll be open. What does warm or hot look like? It is hard to say. Sometimes that's 38 degrees and sunny, other times it might be 60 degrees, windy and cloudy. But, we're excited to get back open to you. We anticipate making changes in our kitchen and arrangements for a better flow and matching with our in-progress menu.
It's the most wonderful time of the year.... National Grilled Cheese Day! Obviously, this ooey gooey holiday means a lot to us. For the past few years we were able to have a Grilled Cheese Dinner, this year we're bringing it to you. This box comes jam-packed with everything you need to make three different varieties of grilled cheese (that's six sandwiches)! Join us at 4 pm on Saturday, April 10th for a live grilling session with the Redhead Creamery Fam while we share recipes, trivia, and answer some of your questions! If you are unable to join us, don't worry! There will be a link to the recording! This is one of our most popular events/items of the year, supplies are limited. Options include getting The Great Grilled Cheese Book!
Order window closes April 4th. Boxes will be shipped or delivered on April 7th.
FREE SHIPPING NATIONWIDE!
This box includes:
• Redhead Creamery's Mozzarella Slices
• Redhead Creamery's Clothbound Garlic Cheddar Slices
• Redhead Creamery's Pimento cheese spread
• Redhead Creamery's Little Lucy Brie
• Redhead Creamery branded glass
• Your choice of a drink mix!
• La Quercia's prosciutto
• Quince & Apple's Peach Chamomile Preserves
• Domaine des Vignon's Cornichons
• a half loaf each of Backwards Bread Bakery's Roasted Garlic Sourdough and Honey Cracked Wheat bread
• Lucky's Roasted Onion and Black Pepper Honey Mustard
• Recipe Cards
Question of the Week:
I heard a story on the Canadian News Show, "As It Happens", last night and the topic was Palmitic Oil or Palmitic Acid in Dairy Cattle feed and how it affects how hard Butter is. Is Palmitic oil used in dairy cattle feed in the U.S.?
Answer:
Yes!
We turned to our nutritionist, Kevin, and maybe the most prolific dairy nutritionist in the country, Dr. Mike Hutjens at the University of Illinois and formerly at the University of Minnesota.
First, our nutritionist says: "Yes palmitic acid is fed to dairy cows in the form of palm fat. This is what we just switched your herd to was palm fat in place of Energy Booster [a product we previously used to help balance the cows' diet]. The palm fat partitions energy to milk fat. It is commonly fed for an energy source to improve milk fat."
And from Dr. Hutjens, "Palmitic oil is a 16 carbon saturated fatty acid. It is being fed in the U.S., Canada, and Europe. I just saw a claim that Canadian butter is less spreadable. This could be possible as unsaturated fatty acids contribute to soft pork in swine.
[But] I would not say suddenly increase in palmitic fatty acid. Dr. Adam Lock at Michigan State has reported solid results replacing Energy Booster and Megalac [with palm fat]. The 2020 Hoard's Dairyman magazine Market Survey reported 41 percent Energy Booster and 31 percent Megalac when using inert fat at 53 percent of readers using of inert fat. Oilseed was 26 percent and 14 rendered animal fat. Other inert fat was 33 percent which I suspect is palmitic or Bergafat from Europe."
So, we indeed are using palmitic acid via palm fat right now at our farm, but based on the conditions and prices of available fat in the market, our cow nutritionist will recommend we switch the different products in and out. You may have heard on our farm tour that we emphasize genetics on our farm. But, it is impossible to unlock the potential of those genetics without the properly balanced diet. While 70-80% of the feed by weight comes from our own fields, the vitamins, minerals, fat and protein to balance comes from our local feed mill… but often includes products like palm fat.
Is this crazy? It may seem so at first, until we realize that about 16% of U.S. dairy products are exported outside of our borders… and that isn't fluid milk, but mostly dried products like protein, casein and lactose. With worldwide trade, we have access to the best products from around the world for our cows. In the recent cold stretch, we feel very fortunate that while many herds lost milk ours held strong. Was it our management, feed, employees or the angle of the sun? We don't know, likely a combination, but we will keep trying to bring the best feed and setting we can provide to them. At this time, it is indeed palm fat.
At the same time, this story appears to have stemmed from a Twitter poll. But food scientists have not raised alarms about any meltability of butter, and scientists within our processing centers and at our Land Grant Colleges and Universities watch this stuff like a hawk. So, we doubt there is any "new" effect on butter from palm fat, but it is indeed being used on a regular basis in the U.S., Canada and Europe, as Dr. Hutjens tells us.
Stay Cheesy,
Jerry, Alise, Linda and Lucas