Cheese Lovers Newsletter (4.19.2021): Should we bottle our own milk?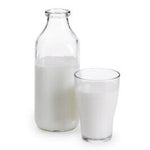 Good Morning, Cheese Lovers!

Happy Monday morning. With two-weeks of second vaccine inoculation in our pockets, all four of us plus kids were able to attend a little-bit-bigger family gatherings yesterday for the first time in a long time. It felt great.

ONE MINUTE FLUID MILK SURVEY - SHOULD WE BOTTLE MILK?
First, a quick survey - we are considering bottling milk on our farm, just for delivery, our in-farm store and at farmers markets. Help us by answering this one-minute survey, here: https://forms.gle/yv7QAZdf7Hkmbqs78

We hope that sun, warm weather, vaccinations and cheese (the four keys to good health), continue to keep the world moving toward our less stressful future. We are making plans for farmers markets this summer, along with Curd Fest and our on-farm store. Current plans for farmers markets include:
Monday - Richmond and Sartell

Tuesday - Alexandria

Wednesday - Cold Spring

Thursday - Alexandria (weekly)

Sauk Rapids and Monticello (every-other-week)

Maple Grove (every-other week)

Friday - St. Joseph

Saturday - St. Cloud, Little Falls and Alexandria

Sunday - we rest
In the cheese plant, we just ended a nice streak of making cheese three days per week and are back to two days per week as our caves get full. That means we've got cheese curing for both summer and December... but are happy to empty those caves back up and put new cheese in.
Our on-farm store continues to be open Noon to 2:30 p.m. with Farm Tours at 12:30 p.m. Friday and Saturday. The tours are outside for an hour, with the final 10 minutes watching a cheesemaking video in the cheese shop. Farm tickets are available here: Farm Tours
Alcohol update!

For potential history's sake, we'd be remiss not to document here and tell those alcohol lovers out there that we've successfully fermented our first whey using lactase and Saccharomyces cerevisiae. Our next experiment will see if we can skip the lactase, and just use Kluyveromyces marxianus.

In English, for those of you who don't speak fermentation, we need to break the lactose into simple sugars. You can do this with lactase - an enzyme that breaks down lactose - and continue on fermenting like you would with corn, barley, rye or other grain utilizing S. cerevisiae. Or, you can find a strain of yeast that utilizes the lactose and some water to produce alcohol. The second method is less studied and less predictable, but requires fewer inputs (both in terms of "stuff" and money).
Yes, we pulled the trigger! Reserve your spot at Curd Fest 2021, on June 19.
Tickets are $12 in advance, and will be $15 at the door. Advanced tickets will be turned into gift cards if due to COVID or weather cancellation. We've got space for at least 728 people according to Minnesota guidelines when we count only our entertainment space, and more if we counted the entire grounds you can explore. Of course, we're hoping the virus subsides and restrictions become more lenient by June.
What to expect: Saturday, June 19, 2021 - 11 a.m. to 6 p.m.Two bands
Food Trucks

All your favorite cheese foods

Beverages that taste really good

Vendors from Minnesota food and craft companies

In the event of a COVID or weather related closure, the cost of your ticket will be transferred to a gift card. In a time of uncertainty, we don't want you to have to gamble.

We hope to soon add a VIP package as well featuring early admission, special one-of-a-kind releases from Redhead Creamery and our vendors, and more to be featured later!
Pre-order here: https://bit.ly/3lYd1K5
DELIVERIES AHEAD
Cheese Van delivery cutoff is Monday 11:59 p.m. U.P.S. Shipment cutoff is Tuesdays at noon.

This week, Wednesday, April 21, back to the 494/694 loop, along I-94 and Hwy-55 between Brooten and Minneapolis.

Next Fargo Route – Wednesday, May 12
Question of the Week: Who was the first Minnesota cheesemaker - Minnesota Artisan Cheese - a new renaissance!

In our last segment, we talked about the UMN Gouda project of the 1970s. Truly, that was the beginning of a new renaissance in both American and Minnesota artisan cheeses.

Our favorite convention (which unfortunately is cancelled in 2020 and virtual in 2021) each year is the American Cheese Society (ACS) convention. ACS began in 1983, with the first competition in 1985, with 89 cheeses from 30 cheesemakers. In year two, they dropped to 68 entries in 13 categories. The growth of the industry was rapid over the next two decades. In 2019, over 1,700 cheeses from 257 companies competed in the ACS competition.

While the Eichten family continued churning along in the 1970s, 80s and 90s, from 1976 to 1994 they were virtually the only Minnesota artisan cheese on the scene. That is, except for those producing amazing blue cheeses at the time at what was and became Treasure Caves, Faribault Dairy and Caves of Faribault. More on that next week... if you know otherwise, please correct us!

In 1994, Shepherd's Way Farms begun under the direction of Steven Read and Jodi Ohlsen Read near Nerstrand. The couple started milking sheep and selling milk to the Wisconsin Dairy Sheep Cooperative. By 1998 they began making cheese, and in 2002 were awarded what we believe is Minnesota's first non-blue ACS competition award - Second Place Aged Sheep's Milk Cheeses with Fresiago. The Reeds needed to start from scratch after a 2005 fire lost them virtually everything, and begun production again in 2011.

In 2008, the first new cow's milk entry burst onto the scene in Minnesota. Our friend Keith Adams started Alemar Cheese in Mankato, after a career in food including owning a chain of bagel restaurants. We owe Keith much inspiration, and his Bent River - a Camembert cheese named after the bend in the Minnesota River at Mankato - took home a Third Place award at American Cheese Society in 2010. Keith has since transplanted back to his home of California as daughter Alex and many others carry on the Alemar legacy under his counsel. In July 2019, Alemar transitioned from an old pizza restaurant in Mankato to the fully renovated Food Building in Northeast Minneapolis. In California, Keith started a second cheese company, Wm. Cofield, selling some of California's only Cheddar cheese curds.

We put these two cheesemakers in our list of mentors and guides in Minnesota cheesemaking. A not-too-distant third is our friend Rueben Nilsson, who has worked most of his time at the Caves of Faribault, but did venture out with partners to form the Lone Grazer - a company that unfortunately did not last but really challenged Minnesota to up the flavor profile of our artisan cheeses. Rueben now serves as General Manager at Caves of Faribault and is bringing fun flavors at one of Minnesota's legacy cheese companies.

We'll round out our short Minnesota renaissance feature with the third cheesemaking ruminant mammal - goats. Brad and Kevin Donnay started looking at a way to take over the family farm when friend David Lenzmeier suggested that they look at milking goats. The three ventured into business together in 1999 as Stickney Hill Dairy with assistance from the state's Agricultural Utilization Research Institute (AURI). They began operating just north of Kimball, expanding slowly over time. But in 2017, they opened a state-of-the-art facility near Rockville. Lenzmeier and the Donnay family parted ways early on. In 2004 Donnay Dairy started where Brad still makes fresh Chevre and other cheeses on their farm near Kimball.

What did we miss? Who did we forget? There are around twelve Minnesota artisan cheesemakers and the history is still being written. We can credit the three cheesemakers listed above for laying groundwork and helping us get started. It is our mission to continue the tradition by aiding future Minnesota and regional cheesemakers learn the basics to venture out on their own.

We should also mention, and will more next week, that the University of Minnesota Pilot Plant deserves credit for helping many of us start. At Redhead Creamery, we made a few test runs under the assistance of Ray Miller, cheesemaker and plant manager at the U. Upstart CannonBelles continues to make their cheese there until their own cheese plant in Cannon Falls is commissioned shortly.

You can buy cheeses from these four companies and more in our Regionally Made Cheeses section. Onto the blues, next week!

Minnesota Cheese History Series
First: Azro P. McKinstry – Minnesota's first creameryman
Previous: Land O'Lakes set the standard
Third: The UMN Gouda Project of the 1970s
This: Minnesota Artisan Cheese: a new renaissance
Next: How Minnesota made America's blues!

Linda, Jerry, Alise and Lucas