Cheese Lovers Newsletter (4.3.2021): Is Milk Really Good For You?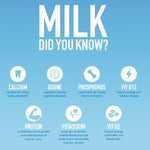 Good morning, Cheese Lovers!

Happy Easter to those who celebrate. To those who don't, hope you're having a great weekend. We're expecting 66°F today and 73°F tomorrow at the Padua International Airport weather station (or Glenwood Municipal Airport) so it will be great egg-finding weather.

Alise is up this morning filling our platter orders for pickup and delivery – which has been our biggest Easter Week ever. Thanks for all your support. We are open on the farm Noon to 12:30 today, and all foreseeable Fridays and Saturdays with Farm Tours at 12:30 p.m.
This is your last chance to order. Sunday midnight will be our cutoff unless supplies run out sooner. We'll ship or deliver your Grill or Be Grilled supplies box this week, and then you can join us next Saturday, April 10, at 4:00 p.m.


Our Grill or Be Grilled box is jam packed with everything you need for six grilled cheese sandwiches. Six!

Can't wait to grill it up with all of you on April 10th! Preorders accepted until tomorrow, April 4th, 11:59 p.m.
Yes, we pulled the trigger! Reserve your spot at Curd Fest 2021, on June 19.
Tickets are $12 in advance, and will be $15 at the door. Advanced tickets will be turned into gift cards if due to COVID or weather cancellation. We've got space for at least 728 people according to Minnesota guidelines when we count only our entertainment space, and more if we counted the entire grounds you can explore. Of course, we're hoping the virus subsides and restrictions become more lenient by June.
What to expect: Saturday, June 19, 2021 - 11 a.m. to 6 p.m.
Two bands

Food Trucks

All your favorite cheese foods

Beverages that taste really good

Vendors from Minnesota food and craft companies

In the event of a COVID or weather related closure, the cost of your ticket will be transferred to a gift card. In a time of uncertainty, we don't want you to have to gamble.

We hope to soon add a VIP package as well featuring early admission, special one-of-a-kind releases from Redhead Creamery and our vendors, and more to be featured later!
DELIVERIES AHEAD
Cheese Van delivery cutoff is Monday 11:59 p.m. U.P.S. Shipment cutoff is Tuesdays at noon.

Next week, Wednesday, April 7, back to the 494/694 loop, along I-94 and Hwy-55 between Brooten and Minneapolis.

Fargo Route – Wednesday, April 14
Question of the Week: Is milk really good for you?

We haven't had time to compile our Minnesota artisan history and blue/bleu information, so we'll have more Minnesota Cheese History next week! Or, feel free to send in a question about farming or cheesemaking. But here's a fun update on how important milk is:
Milk Now has 13 Essential Vitamins and Minerals
Milk is still milk and what's inside is what's always been inside. But we have more data available in USDA databases that show more nutrients in milk meet the threshold of being a good or excellent source.
Iodine, potassium, selenium, and zinc have joined protein, calcium, phosphorus, vitamin A, vitamin D, riboflavin (B2), niacin (B3), pantothenic acid (B5), and cobalamin (B12) as essential nutrients in milk.
Zinc and selenium are both important to normal (healthy) immune function, along with the vitamin A, vitamin D, and protein in milk.

Potassium is an electrolyte that's important in performance due to the regulation of fluid balance and its role in muscle function. It is also important to blood pressure regulation, supports heart health and is a nutrient of public health concern because people aren't getting enough of it in their diets.

Iodine is a nutrient important for pregnant and lactating moms due to the increased need to support the child's cognitive development.
The most important thing to share with consumers is that they can be confident that milk truly is nature's wellness drink. It has been around for centuries, but with 13 nutrients in every glass, the benefits are far from old-fashioned.
Go to MidwestDairy.com to get the updated infographic Is Milk Good for You? to get the new visual.
Minnesota Cheese History Series
First: Azro P. McKinstry – Minnesota's first creameryman
Previous: Land O'Lakes set the standard
Third: The UMN Gouda Project of the 1970s
Fourth: Minnesota Artisan Cheese: a new renaissance - next
Fifth: How Minnesota made America's blues!

Lucas, Linda, Jerry and Alise