Cheese Lovers Newsletter (5.10.2021): What are you doing with those apple trees?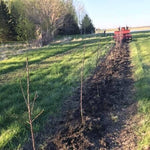 Good Morning, Cheese Lovers!

For our Fargo friends - order by midnight, tonight, if you'd like great cheese!

Happy Monday! We're a couple days late and a couple interns short of getting everything done, but we're excited to say we have North Fork Whiskey Washed Munster in a cave for release later this month... woo hoo! We have one intern starting this week, and a second next week, so that will help us get rolling. We would also consider a "Farmers Market Intern" if you know of anyone looking to work with a fun crew this summer. Have them shoot us a note and we can go from there.
Businesses - want your own "Cheese Day?"
A few businesses in the Twin Cities and Greater Minnesota have decided to hold a "cheese day!" with Redhead Creamery. What does this mean?
1. Contact us ahead of time to set it up for a future Wednesday (Twin Cities and Fargo route) or Thursday/Friday (local businesses).
2. Send an email/Slack/messenger pigeon to all your employees. We will have instructions on how you can WAIVE the shipping fee.
3. We stop at your business and drop off your orders with no delivery fee.
If this is something you or your employer want to do, let us know!
Alexandria Farmers Market only this Saturday
We are short on people this weekend, so see Tim and the cheese van from 9 to Noon at the Alexandria Farmers Market this Saturday, May 15. We likely won't be able to staff our normal St. Cloud Area Farmers Market this week - hopefully it is one of few skips this summer.

After this week, we hope to be at farmers markets five days a week on the regular. Woo hoo!
NEW STORE HOURS - expanded Saturdays

Fridays remain the same with our on-farm retail shop open Noon to 2:30 p.m.
Saturdays expand to Noon to 4:00 p.m.

Our summer menu includes our one-of-a-kind pan-fried cheese curds and grilled cheese paninis all summer long.

Farm Tours continue at 12:30 p.m. Friday and Saturday.
Curd Fest VIP Package released - 10 remain
Reminder for our extremely limited Curd Fest VIP package.
Cheese, Coffee and Doughnuts with the Redhead - with early admission at 10:30 a.m.

Join Alise (and potentially Linda, Jerry or Lucas depending on childcare and Curd Fest setup status) for 30-minutes of coffee and donuts before Curd Fest 2021 opens

Admission to Curd Fest (see below if you already have your ticket!)

Ticket for T-shirt redeemable at entrance

Ticket for an exclusive Curd Fest insulated mug

Redeemable at Curd Fest bar

Mug includes one complimentary fill-up with beverage of choice

Bag of RHC Cheese Curds

Stickers

Farm Tour Ticket to be redeemed at a later date

VIP seating reserved for watching the band
All this is for $90 (includes Curd Fest Admission) and can convert to a gift card if Curd Fest would need to be cancelled due to weather or government-imposed health restrictions.

Question of the Week: What are you doing with those apple trees?

Thanks for the question. As you maybe saw on Facebook, we planted 113 apple trees. Apple trees are pretty amazing when it comes to genetics. They start with a root stock, that kind of gives the potential of the tree. This year our trees are on B119 - a semi-dwarf originally from the Michurinsk College of Agriculture, former Soviet Union. It is very winter hardy and will help us grow some vigorous trees.

On top of the rootstock, our nursey spliced in 93 Michelin trees and 20 Yarlington Mills trees. Why? Well, we ordered 1,000 for 2022 but first wanted to buy about 100 to get started, so this is what they already had in inventory. In 2022, we will receive 1,000 trees in a slightly different rootstock.

We will hope to raise great apples for cider. You likely have never seen Michelin or Yarlington Mills for eating in the store, and that's for good reason. These apples are bred for cider production. Hard cider is very popular in England, Spain and France. And while it goes great with cheese, we fully intend to be selling apples and not making cider. That's a whole 'nother step. We'll focus on being apple farmers and get our alcohol from our distillery-in-planning.

Linda, Jerry, Alise and Lucas

-->