Cheese Lovers Newsletter (5.17.2021): Victory in 2021!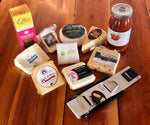 Good Morning, Cheese Lovers!

For our Twin Cities friends - order by midnight, tonight, if you'd like great cheese! See new Victory Cheese Box below - only 25 available.

We got ourselves a workout last night. We guarded our apple trees with an 18" trunk protector, gave them a drink of water, tied them to bamboo stakes and were pleased to see the first buds of the year coming out of our brand new trees. As a reminder, we are planning to be tree farmers, then sell these apples for cider to other Minnesota cider makers. We've had several people asked if we plan to make cider on site. No, is the short answer, we've got too much going on to think about that.

At the other driveway, you'll soon see a new (more obvious) entrance to Redhead Creamery. Personal vehicles and even semi trucks sometimes take our personal driveway. And, since we created a temporary driveway in an alfalfa field, we've even had one semi truck and one car take this fully off-road adventure (with no success). We've added some landscaping and will soon add a sign so hopefully everyone knows right where to turn. For some reason, Garmin drops you off right at the new temporary "field" driveway. Google seems to get you here, but if you're not using an app the gravel road of twists and turns can indeed leave you wondering if you've gone too far, or not far enough. We're one step closer to living the phrase "all roads lead to Redhead Creamery" ... but just not our personal or field driveways. ;)
THREE CHEERS! - 2021 Victory Box #1 including summer grill-out cheese class
You've been amazing to us. But as we listen in to the American Cheese Society updates and talk to our friends in Minnesota cheese, it is clear we'll need a group effort to sustain our Minnesota cheese companies. The pandemic has been rough, to put it simply. But, to help share the love of Minnesota cheese, we've put together our first Victory Box of 2021 with fellow Minnesota cheesemakers!
Hip Hip Hurrah! The third Victory Box has arrived! To celebrate American Cheese Month we've curated an Ode to Minnesota Cheese. This box is teeming with 8 varieties of local-made cheese and a few extra goodies. Many of these cheeses are not regularly stocked here at Redhead, so get them while you can! After you place your order, you'll be invited to a virtual cooking class with Kerry Jerred from Forage to Fromage where she'll share recipes and techniques to best utilize your cheeses! Come celebrate with us!

NATIONWIDE FREE SHIPPING ALWAYS INCLUDED!
This extra-special box includes:
Redhead Creamery's St. Anthony
Caves of Faribault's AmaGorg Gorgonzola
Shepherd's Way Farms' Garlic and Herb Shepherd's Hope
Alemar Cheese Company's Bent River
Eichten's Hidden Acres' Tomato Basil Gouda
Metz's Hart-Land Creamery's Blueberry Cheddar
Cannon Belles Cheese's Queso Fresco
Capra Nera's Contadina
We've also included American Spoon's Bloody Mary Mix, various flavors of Effie's Homemade Biscuits, and Boska's Cheese Barbeclette!
Order here and sign up for the Forage to Fromage class, here: Three Cheese for Victory! Cheese BoxBusinesses - want your own "Cheese Day?"
A few businesses in the Twin Cities and Greater Minnesota have decided to hold a "cheese day!" with Redhead Creamery. What does this mean?
1. Contact us ahead of time to set it up for a future Wednesday (Twin Cities and Fargo route) or Thursday/Friday (local businesses).
2. Send an email/Slack/messenger pigeon to all your employees. We will have instructions on how you can WAIVE the shipping fee.
3. We stop at your business and drop off your orders with no delivery fee.

If this is something you or your employer want to do, let us know!Big week for farmers markets
Monday - Richmond and Sartell - 3:00 to 6:00 p.m.
Wednesday - Cold Spring - 3:00 to 6:00 p.m.
Thursday - Maple Grove - 3:00 to 6:00 p.m.
Friday - St. Joseph - 3:00 to 6:00 p.m.
Saturday - St. Cloud (8 to noon) and Alexandria (9 to noon)

On-Farm Store open:
Friday - Noon to 2:30 p.m.
Saturday - Noon to 4:00 p.m.
Farm Tours continue at 12:30 p.m. Friday and Saturday.

Our summer menu includes our one-of-a-kind pan-fried cheese curds and grilled cheese paninis all summer long.
Question of the Week: Are other milk producing animals (goats and sheep) ruminants? Is that milk considered "dairy?"

Moo! One of the questions we are asked often at Farmers Markets, and even at our on-farm store, is whether we make any goat or sheep milk. The short answer is no, we prefer at this point to carry our friends' cheeses with those species.
Could we? We've thought about it. There are a few hoops to jump through in terms of regulation. Receiving milk from another plant would take a bit more tracking and coordination, but we could do it. We do believe - much like hamburgers are best made from a combination of beef, pork and lamb (or some other meet - mixed-milk cheeses have a slight natural advantage in flavor components since there are so many variables mixed in. However, most of the flavor is still going to come from the rennet, culture and salt you use.

But, back to the question: All mammals give milk, that's basically universally in their definition. Exceptions are two - the Echidna and the Platypus. These egg-laying monotremes are kind of in-between. The other two categories of mammals are the placentals (babies come from a placenta via a fetus carried in the uterus) and the marsupials (babies from a pouch, mostly).

Ruminants are a subset of the placentals, and there are about 200 species. So, as mammals, pigs give milk (but it doesn't really work as cheese), whales give milk (good luck milking) and deer give milk. But, obviously, we focus on the animals with udders that are larger and accessible - cows, goats, sheep, but also could be - buffalo, camel, donkey, mare, moose, reindeer, water buffalo and yak. Actually, in Italy only water buffalo can make official Mozzarella.

These are all ruminants and all milk is considered dairy (although eggs are not, despite your grocery aisle saying otherwise).

The connection with ruminants and cheese is that, like cheesemakers, young ruminants use the rennet in their stomachs to digest their mothers' milk. Monogastric mammals (like pigs, cats, dogs and people) still feed their young milk, but they are all omnivores. So they're not going to have that consistent grassy taste. While a few have made pig's milk cheese (fatter, but also more wattery) and of course decided that it tasted good after they milk the little pig udders for hours on end, then make cheese. One example of this supposedly went for thousands of dollars.

So, stick to the cows (or goats or sheep, or water buffalo). They've got the volume, they've got the tradition and they've got the teats.

Lucas, Alise, Jerry and Linda