Cheese Lovers Newsletter (4.29.2021): VIP Curd Fest Experience!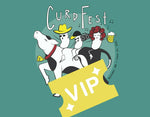 Good Morning, Cheese Lovers!

Happy Friday. We are so happy to be writing this on a second day of sunshine instead of the middle of a half-week of grey rain and gloom. Not that we're upset about the rain - our soil needs it to grow crops.
What Mom wants - we got it!
Stop your shopping. We did it for you - Mom wants a "Thanks, Mom! Gift Box" from Redhead Creamery!
You can never say "thank you, mom!" too many times. This bright and spring-y gift box is perfect for your favorite lady! Mom can make herself a platter or just snack on all the goodies! Supplies are limited, so be sure to order this gift while you can. Be sure to let us know if you would like a hand-written letter to mom included with your order.
Order here: https://bit.ly/332SGe8
St. Cloud Area Farmers Market on Saturday!
We have joined the St. Cloud Area Farmers Market, downtown, as full members this year. That means with rare exception we will be there every single week. Lucas is taking the cheese van on its maiden farmers market voyage this Saturday, 8 a.m. to Noon, in the Lady Slipper Lot (also known as Liberty Square, a parking lot right on Division Street/Highway 23 at 6th and 7th avenues).

For more information, check out https://stcloudfarmersmarket.com/
NEW STORE HOURS - expanded Saturdays

Effective now:
Fridays remain the same with our on-farm retail shop open Noon to 2:30 p.m.
Saturdays expand to Noon to 4:00 p.m.

Our summer menu includes our one-of-a-kind pan-fried cheese curds and grilled cheese paninis all summer long.

Farm Tours continue at 12:30 p.m. Friday and Saturday.
Curd Fest VIP Package released - limit 25
Our newsletter readers will have a three-day head start on our press release for our extremely limited Curd Fest VIP package.
Cheese, Coffee and Doughnuts with the Redhead - with early admission at 10:30 a.m.

Join Alise (and potentially Linda, Jerry or Lucas depending on childcare and Curd Fest setup status) for 30-minutes of coffee and donuts before Curd Fest 2021 opens

Admission to Curd Fest (see below if you already have your ticket!)

Ticket for T-shirt redeemable at entrance

Ticket for an exclusive Curd Fest insulated mug

Redeemable at Curd Fest bar

Mug includes one complimentary fill-up with beverage of choice

Bag of RHC Cheese Curds

Stickers

Farm Tour Ticket to be redeemed at a later date

VIP seating reserved for watching the band
All this is for $90 (includes Curd Fest Admission) and can convert to a gift card if Curd Fest would need to be cancelled due to weather or government-imposed health restrictions.

**If you have already purchased a ticket to Curd Fest 2021, don't worry! We have been keeping a detailed list and will refund you your original purchase of $12. You can reach out to info@redheadcreamery.com if you have any questions.**

Buy it, here and we will see you at cheese, coffee and donuts: VIP Curd Fest Bundle
Fluid milk update!
Thanks to those of you for answering our fluid milk survey! Your answers solidified our direction and we have filled out a grant for a chiller and milk bottling equipment. The chiller provides several benefits. First, it will quickly cool down our milk. This is less time waiting and also less time for bacteria to form. We drank milk on our own out of our pasteurizer from time to time. However, with a slow batch "air-cooling" as we have it set up currently, this allows for the bacteria that give milk a sweet flavor to form, and eventually lead to less shelf life. Likewise, this also lowers shelf life of our cheese. So the chiller would stop waiting time, improve shelf life and make our milk taste better. All good, eh?

But, it is expensive. We hope to get a chiller eventually, but without a grant it really isn't feasible for us in the near future.

We also need bottling equipment, which is unique because manual hand-filling is not allowed. So, this specialized equipment is also expensive, and we are on the hunt!

Wish us luck and thank you again for your support!

Alcohol update!
Alise has four different styles of whey fermenting. We're hoping to measure over the weekend, but it smells like it is fermented so that's a good thing! We've also talked to several distillers on whether we could get something going before building anything here.
Curd Fest pre-sale tix are here
Yes, we pulled the trigger! Reserve your spot at Curd Fest 2021, on June 19.
Tickets are $12 in advance, and will be $15 at the door. Advanced tickets will be turned into gift cards if due to COVID or weather cancellation. We've got space for at least 728 people according to Minnesota guidelines when we count only our entertainment space, and more if we counted the entire grounds you can explore. Of course, we're hoping the virus subsides and restrictions become more lenient by June.
What to expect: Saturday, June 19, 2021 - 11 a.m. to 6 p.m.
Two bands

Food Trucks

All your favorite cheese foods

Beverages that taste really good

Vendors from Minnesota food and craft companies

In the event of a COVID or weather related closure, the cost of your ticket will be transferred to a gift card. In a time of uncertainty, we don't want you to have to gamble.

Check out our VIP package with early one-on-one conversations and admission, cheese, drinks and great swag from Redhead Creamery and our vendors, and more to be featured later!
Pre-order here: https://bit.ly/3lYd1K5
DELIVERIES AHEAD
Cheese Van delivery cutoff is Monday 11:59 p.m. U.P.S. Shipment cutoff is Tuesdays at noon.

This week, Wednesday, May 5, back to the 494/694 loop, along I-94 and Hwy-55 between Brooten and Minneapolis.

Fargo Route – Wednesday, May 12
Question of the Week: Who was the first Minnesota cheesemaker? - How Minnesota sang the blues:

Fortunately or unfortunately, 100% of a blue-centric Minnesota occurred over 50 years ago. That being said, if you want to dive into this deeper, you need to read St. Paul Underground: The University Farm Experimental Cave and St. Paul as Blue Cheese Capital of the World. Here's the PDF -https://publishing.rchs.com/wp-content/uploads/2015/11/RCHS_Fall2003_Brick.pdf

Consider this an abridged version of the great story put together by Greg A. Brick. We first discovered this story at the 2017 Upper Midwest Dairy Industry Association annual meeting, and well told by University of Minnesota Cheesemaker Extraordinaire (not official title) Ray Miller.

In short, it actually starts with sandstone. Near Faribault and near Wabasha street of St. Paul are two very unique places that can mimic the caves of France (as well as other Minnesota locations along the Mississippi), at least according to the late University of Minnesota Professor Willes Barnes Combs (1892-1959). The sandstone caves interestingly allow the moisture to come through, are easy to work with (or dig out) and were measured to have just a 3-degree temperature difference year-round.

Combs realized that, with mushrooms growing in the caves at the time, moisture it was maintaining was allowing mold to grow on a lantern. He hypothesized that it could mimic the caves of Roquefort, France. In 1933, Combs wrote that no commercial blue cheese was being produced in America. However, that year he secured funding to age cheese in a small test cave for the first time. It was between 45 and 50 degrees and extremely humid. Plus, the sandstone allows the ammonia to escape the caves.

This is a situation we have created through mechanical, but more controlled, means at Redhead Creamery.

Combs punched air holes in the cheese after sprinkling moldy bread crumbs on the cheese and after six months he found that the caves held "that heavenly stink which goes so well with cold beer." The caves worked, and eventually got the attention of the French. M. Henri Cassou, a French Foreign Trade Commission Member, blasted the "bastard caves" and said "There is only one Roquefort cheese and it is made in France."

However, what he didn't know was that Combs put actual Roquefort in within the University of Minnesota cheeses, and of course the Frenchman didn't notice... alas with all the talk of terroir and products of a specific geography, we believe we only get better with competition. However, many in Europe believe we we should protect names like Asiago for only the region where they are invented. We say - let's make great cheese. The taste will help customers decide.

Back to the story, in 1936 the Treasure Cave began in 1850s caves off the Straight River in Faribault thanks to Combs' research. These caves were originally used by the Fleckenstein Brewing Company. Flex Frederiksen started the company after finding Faribault in search of the famous St. Peter Sandstone. Treasure Cave became a well-known brand and was sold to a well-known brand, ConAgra, whom shut down the Faribault caves in the 1990s and likely damaged some cave components in their effort to take the brand to Illinois and potentially stop replication.

Land O'Lakes and Kraft both opened caves in St. Paul in the 1940s. However, the St. Paul floods of the

In June 2001, a small partnership including Jeff Jirik founded Faribault Dairy Company, Inc., now known as Caves of Faribault. They re-opened the caves and restarted the craft on the straight river. They;ve been creating award-winning cheese for the past 20 years and have helped people luck us get started.

University of Minnesota professor Howard A. Morris is credited with helping California's Point Reyes Farmstead Cheese Co. in 2000.

So, thank you University of Minnesota, Professor Combs, Ray Miller and Jeff Jirik. And thank you God for creating the sandstone caves. Without all of that, we may not be here. Here ends our multiple answers to who was the first Minnesota cheesemaker.

Please send in your questions for future Q & A!

Minnesota Cheese History Series
First: Azro P. McKinstry – Minnesota's first creameryman
Second: Land O'Lakes set the standard
Third: The UMN Gouda Project of the 1970s
Previous: Minnesota Artisan Cheese: a new renaissance
This: How Minnesota made America's blues!

Linda, Jerry, Alise and Lucas