Cheese Lovers Newsletter (5.24.2021): We got 2021 problems, but NFWWM ain't one!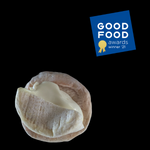 Good Afternoon, Cheese Lovers!

For our FARGO ROUTE friends - order by midnight, tonight, if you'd like great cheese! See new Victory Cheese Box below - limited availability.

Fresh off its 2021 Good Food Award win, the Seasonal (May-November) North Fork Whiskey Washed Munster has emerged from its winter aging room and is ready for action. We had it available at the Saturday Farmers Markets at the first time. It will be at Sartell today but not Richmond (logistics, sorry!) but should be available in days ahead. The NFWWM (North Fork Whiskey Washed Munster) is now aged in its own special cave last summer, thanks to some upgrades we made. It is simply too dry and warm for it to survive the winter.

In other news, if you want our 2021 Victory Box #1, and are willing to pick it up at the store or at a farmers market, we're willing to knock down the shipping cost and discount you $25! Let us know! Otherwise they'll ship to your door this week.

North Fork Whiskey Washed Munster (NFWWM):
THREE CHEERS! - 2021 Victory Box #1 including summer grill-out cheese class

You've been amazing to us. But as we listen in to the American Cheese Society updates and talk to our friends in Minnesota cheese, it is clear we'll need a group effort to sustain our Minnesota cheese companies. The pandemic has been rough, to put it simply. But, to help share the love of Minnesota cheese, we've put together our first Victory Box of 2021 with fellow Minnesota cheesemakers!
Hip Hip Hurrah! The third Victory Box has arrived! To celebrate American Cheese Month we've currated an Ode to Minnesota Cheese. This box is teeming with 8 varieties of local-made cheese and a few extra goodies. Many of these cheeses are not regularly stocked here at Redhead, so get them while you can! After you place your order, you'll be invited to a virtual cooking class with Kerry Jerred from Forage to Fromage where she'll share recipes and techniques to best utilize your cheeses! Come celebrate with us!

NATIONWIDE FREE SHIPPING ALWAYS INCLUDED!
This extra-special box includes:
Redhead Creamery's St. Anthony
Caves of Faribault's AmaGorg Gorgonzola
Shepherd's Way Farms' Garlic and Herb Shepherd's Hope
Alemar Cheese Company's Bent River
Eichten's Hidden Acres' Tomato Basil Gouda
Metz's Hart-Land Creamery's Blueberry Cheddar
Cannon Belles Cheese's Queso Fresco
Capra Nera's Contadina
We've also included American Spoon's Bloody Mary Mix, various flavors of Effie's Homemade Biscuits, and Boska's Cheese Barbeclette!
Order here and sign up for the Forage to Fromage class, here: Three Cheese for Victory! Cheese Box
Businesses - want your own "Cheese Day?"
A few businesses in the Twin Cities and Greater Minnesota have decided to hold a "cheese day!" with Redhead Creamery. What does this mean?
1. Contact us ahead of time to set it up for a future Wednesday (Twin Cities and Fargo route) or Thursday/Friday (local businesses).
2. Send an email/Slack/messenger pigeon to all your employees. We will have instructions on how you can WAIVE the shipping fee.
3. We stop at your business and drop off your orders with no delivery fee.

If this is something you or your employer want to do, let us know!
Farmers Markets May 24-31:
Monday - Richmond and Sartell - 3:00 to 6:00 p.m.
Thursday - Monticello (Sauk Rapids and Maple Grove next week likely, June 3) - 3:00 to 6:00 p.m.
Friday - St. Joseph - 3:00 to 6:00 p.m.
Saturday - St. Cloud (8 to noon) and Alexandria (9 to noon)

On-Farm Store open:
Friday - Noon to 2:30 p.m.
Saturday - Noon to 4:00 p.m.
Farm Tours continue at 12:30 p.m. Friday and Saturday.

Our summer menu includes our one-of-a-kind pan-fried cheese curds and grilled cheese paninis all summer long.


Curd Fest VIP Package released - Only 7 remain
Reminder for our extremely limited Curd Fest VIP package.
Cheese, Coffee and Doughnuts with the Redhead - with early admission at 10:30 a.m.

Join Alise (and potentially Linda, Jerry or Lucas depending on childcare and Curd Fest setup status) for 30-minutes of coffee and donuts before Curd Fest 2021 opens

Admission to Curd Fest (see below if you already have your ticket!)

Ticket for T-shirt redeemable at entrance

Ticket for an exclusive Curd Fest insulated mug

Redeemable at Curd Fest bar

Mug includes one complimentary fill-up with beverage of choice

Bag of RHC Cheese Curds

Stickers

Farm Tour Ticket to be redeemed at a later date

VIP seating reserved for watching the band
All this is for $90 (includes Curd Fest Admission) and can convert to a gift card if Curd Fest would need to be cancelled due to weather or government-imposed health restrictions.
Yes, we pulled the trigger! Reserve your spot at Curd Fest 2021, on June 19.
Tickets are $12 in advance, and will be $15 at the door. Advanced tickets will be turned into gift cards if due to COVID or weather cancellation. We've got space for at least 728 people according to Minnesota guidelines when we count only our entertainment space, and more if we counted the entire grounds you can explore. Of course, we're hoping the virus subsides and restrictions become more lenient by June.
What to expect: Saturday, June 19, 2021 - 11 a.m. to 6 p.m.
Two bands

Food Trucks

All your favorite cheese foods

Beverages that taste really good

Vendors from Minnesota food and craft companies

In the event of a COVID or weather related closure, the cost of your ticket will be transferred to a gift card. In a time of uncertainty, we don't want you to have to gamble.

Check out our VIP package with early one-on-one conversations and admission, cheese, drinks and great swag from Redhead Creamery and our vendors, and more to be featured later!
Pre-order here: https://bit.ly/3lYd1K5
DELIVERIES AHEAD
Cheese Van delivery cutoff is Monday 11:59 p.m. U.P.S. Shipment cutoff is Tuesdays at noon.

Order tonight!, Wednesday, May 26 - Fargo Route

Wednesday, June 2, back to the 494/694 loop, along I-94 and Hwy-55 between Brooten and Minneapolis.
Question of the Week: Were the cows themselves - their immune systems - susceptible to COVID-19?

This is a good question. To be honest, this was at the back of many livestock farmers' minds early on in the pandemic. Apparently, some animals at zoos and other places were tested for COVID and indeed could carry the disease after human interaction. However, there appear not to be any widespread outbreaks in livestock or other animal locations.

We and most dairy farmers have already been vaccinating for a different coronavirus for some time. We aren't at all saying they are the same thing, but if there was a vaccine available for something that affected our cattle and/or was economically viable, we would use it.

That being said, this is a short answer and we are short on time. We'll be contacting an immunologist about this with a longer answer next week!

Alise, Lucas, Jerry and Linda