Cheese Lovers Newsletter (7.6.2020): Second Crop Hay Complete!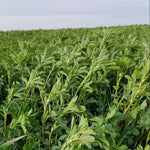 Hello Friends,
First, let's talk cheese. We have a special batch of Brie ready to eat now and for the next few weeks. This one ripened a little different (we think better) than normal and should stay at perfect taste for the next few weeks - so if you've been thinking about trying Brie or sharing with someone, this is the batch we'd recommend. What's different about it? Not much, but according to our records the heating was done just slightly different than normal and it's something we'll watch as we get reviews.
On the farm: We got done with our second crop of hay this week. People often ask what our cows eat, and working with our nutritionist, agronomist and our soil, we've come up with a pretty consistent formula for much of the past 37 years on this farm. In just 10 days it will be Jerry and Linda's 41st anniversary dairy farming together, which if you're good at math you'll understand started a few miles away from here. Cows can eat pretty much whatever you put in front of them. But for supreme nutrition using our soil, weather and cow genetics, we've settled on a mix of grass and legumes that they seem to enjoy.
First, alfalfa. We see this as a wonder plant, which was brought to Victoria, Minn., by Wendelin Grimm in the fall of 1857. Alfalfa grew in Germany, but when Grimm brought them to Minnesota he had to collect the plants that could last the harsh winters. This made Minnesota and other Upper Midwest states a great place to grow the crop. We grow this legume, with some grass often mixed in, and harvest it when it's over 50% moisture. This creates a roughly 2,000-pound bale called "baleage" - which allows the alfalfa or alfalfa/grass mixture to ferment in a specially designed plastic wrap. If you look back on the Jer-Lindy Farms Facebook page, or search YouTube for "baleage wrap" you can see the process.
We harvest usually four crops of hay per year. If you plant alfalfa in the spring, it's usually ready in late June or early July, then you cut about once per month until September 1. The following year, you should get four crops of it, and you can keep growing four crops until the stand thins and it is time to replace it with corn.
Second, corn silage. Corn has come a long way, and some people (and food documentaries) think it's all the same - one big monoculture that farmers plant without regard to anything besides making more money. That couldn't be further from the truth - agronomists and farmers match up the genetics of the corn, risks of the weather and what the farmer can handle with weed or pest pressure. Further developed over the previous 50 years have been special varieties of corn silage. Today, with years of breeding, we've been able to use the brown-mid-rib corn, or BMR, which allows dairy and beef farmers to grow better silage that gives us a more digestible crop (though less grain than a normal corn crop).
Usually after one or maybe two years of corn on a field, we rotate back to alfalfa. This allows alfalfa's natural nitrogen-fixing properties to replenish the soil with those nutrients, and corn to pull the nutrients back out of the soil. Rotating crops also helps stem pest pressure so insects and fungus cannot thrive on the same field forever.
We'll stop there, but the point is with years and years of research at our universities, trial-and-error by farms, and solutions developed by the crop genetics companies, we have better and better tools each year to feed our animals.
It has been a beautiful week for cows and growing crops. Cows don't like it too hot, 70 is great for them. Crops do need the sun (mixed with some rain), and with the past two weeks our corn has shot up and our second of (hopefully) four crops of alfalfa is cut, ready to be made into bales on Tuesday.
Farm Tours :
Farm Tour Reservations (12:30 p.m. Friday and Saturday):
https://www.redheadcreamery.com/farm-tours
Have a great week!
Alise, Lucas, Linda and Jerry