Cheese Lovers Newsletter (8.21.2020): Building Project Underway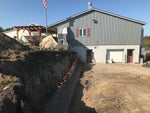 Hello Cheese Lovers,
Thanks to you, we're finalists!
We are in a friendly competition with two other great Minnesota cheeses as a top-3 nominee in Minnesota Monthly's 2020 Readers' Choice Survey! The contest has started and will end on Sunday, August 27—so act quickly! Here are some ways you can help:
Visit
minnesotamonthly.com/win/readers-picks/
and vote.
Encourage your friends, family and co-workers to vote as well.
Post on social media, include the website to vote, and tag Minnesota Monthly:
Facebook:
@MinnesotaMonthly
Instagram:
@MNMOmag
Twitter:
@MNMOmag
The winners will be announced on October 22 when Minnesota Monthly's November/December issue will be on newsstands.
Building project
Wednesday night we got out our tape measures and boots (the latter to draw lines in the gravel) for a potential southern mini-expansion of the cheese plant. We would add a cooler to help us better manage cheese from our friends around the state and help us more easily prepare shipments, as well as a storage building to give us more space in the creamery. We will learn the success of a grant in September and hopefully have the project completed by our busy holiday season.
On the farm, our nutrient storage facility project continues to roll forward. We have a concrete ramp that will help us more easily collect manure and soon will be building a compost building to help it "age" - kind of like a cheese, but also not at all. The similarity is that it gets better with time as it ferments.
Alise, Lucas, Linda and Jerry