Cheese Lovers Newsletter (8.30.2020): Apple Pie is back!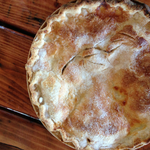 Hello Cheese Lovers,

Pies are back! We've also got enough apples for 20 of Linda's Apple Pies! We'll keep picking them but based on last year's demand we fear that we may not have many pies available by January 1, so reserve yours today.
Questions? We'll answer them… Alise and Lucas got tonsils out 1.5 weeks ago but are slowly battling to get their voices and appetites back (thanks to team, Jerry and Linda for all the help, and keeping things moving). After recovery is complete (this week), we want to transition both this newsletter and our other social media accounts plus website to more of an information center. We actually made plans this winter to do something like this – we put together an internal frequently asked questions guide, got people put in place to do the answering, knew which equipment we needed to buy to make videos and/or podcasts, and figured we would start on it after St. Patrick's Day and get things rolling by May 1.
Guess what happened in-between? We all know... so, we changed our business plan quite a bit. But we want to be able to get back to this goal for a few reasons.

You Learn. Obviously, we love when more people know more about cheese. But more than that, we want you to know the truth about cheese, whether it is Redhead Creamery cheeses or anyone else's. Especially as we continue to carry other Minnesota cheeses, plus wines and other artisan products, we want to be able to share as much as we can about them to help you enjoy them even more.

We Learn. One of the most fascinating parts about teaching, of course, is learning ourselves. So respond to this email or ping our website or Facebook or even call anytime you have a question. We would LOVE to be stumped. Luckily if we don't know and if Google can't help direct us, we have great friends at the Center for Dairy Research (of Wisconsin), American Cheese Society, and the Midwest Dairy Foods Research Center who can probably help us out.

We Eat. As fellow eaters, this is probably the best part of the job. If we can take a question, provide an answer and develop it into a snack or recipe for you, we all win. One of the most common questions we hear at farmers' markets is "what can I do with this cheese?" We often answer "everything" but we aim to give you a look behind our kitchen curtain to how we might use them. Or, you can teach us how you're using our cheeses.

That's enough of a novella for you this week. Enjoy it, and hope to see you on a future route!

Alise, Lucas, Linda and Jerry