Grandma Eva's Cheesy Potatoes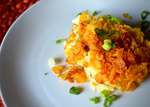 The holidays are all about tradition. One of my favorite holiday traditions growing up was cheesy potatoes. My grandma Eva made them, and you knew every single holiday that they would be there. I love being able to carry this tradition along and making it my own.
Prep Time: 15 min­utes
Cook Time: 30 min­utes
Total Time: 45 minutes
Ingre­di­ents
1 cup Redhead Creamery Pizza Cheese
1 cup Redhead Creamery Cave-Aged Garlic Cheddar
1 32 ounces bag of hash browns
1 10.5 ounces can of Cream of Chicken soup
Green onions
1 small red onion
4 tablespoons butter
1 teaspoon salt
½ teaspoon pepper
3 ounces Corn Flakes
2 cups sour cream
Instructions
Sauté ¼ cup of red onion in 4 tablespoons of butter until translucent.
Combine soup, sour cream, hash browns, 1 teaspoon salt, ½ teaspoon pepper in a mixing bowl.
Shred 1 cup of Redhead Creamery Garlic Cheddar Cheese and 1 cup of Redhead Creamery Pizza Cheese. Combine in a small mixing bowl.
Mix half of the cheese in with the liquid ingredients.
Pour mixture into 9 x 9 baking pan (or 9 x 13 in). Top with remaining cheese.
Sprinkle 3 oz crushed corn flakes on top.
Bake at 400 degrees Fahrenheit for about 30 minutes or until golden brown.
Before serving, top with sliced green onion.
Serve immediately!