Redhead Lasagna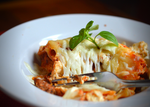 Lasagna is one of those dishes that can feed the masses without sacrificing taste. And the best part is it can be made ahead of time! This recipe is perfect for entertaining a group of friends. Serve with a toasted baguette and a delicious salad, and boom, you're in Italy! One can dream, right?
Prep Time: 20 min­utes
Cook Time: 40 min­utes
Total Time: 1 hour
Ingre­di­ents
3 cups ricotta cheese
¾ cup Redhead Creamery St. Anthony washed-rind cheese
2 eggs
2 tablespoons Italian seasoning
1 tablespoon parsley
2 teaspoons minced garlic
2 cups fresh spinach (optional)
½ pound ground beef
½ pound Italian sausage
1 small yellow onion
1 jar (45 oz) Italian sauce
12 lasagna noodles (ready-to-bake, so much faster!)
3 cups shredded Redhead Creamery Pizza Cheese
Instruc­tions
Preheat the oven to 400 degrees Fahrenheit. 
In a saucepan, brown ground beef, Italian sausage, and chopped onion. Once cooked through, pour in the jar of Italian sauce. Cover the pan and let simmer.
Meanwhile, combine eggs, ricotta cheese, minced garlic, Italian seasoning, fresh spinach, and parsley into a mixing bowl. Set bowl aside.
Add 2 cups of meat sauce mixture into 13 x 9 x 2-inch baking dish. Top with 4 lasagna noodles, half of the ricotta-egg mixture, and half of the Pizza Cheese.
Place 4 lasagna noodles on top, and repeat step 4. 
Top with the remaining lasagna noodles, remaining meat sauce mixture, and the St Anthony cheese.
Bake for 30 minutes or until the lasagna is hot. Let sit for 10 minutes before serving.
Serve imme­di­ately!
-->