Little Lucy Tomato Bisque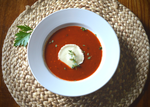 A quick lunch to warm you up on a cold Fall day! And we have plenty of cold days in Minnesota. Typically this recipe is best served with a grilled cheese sandwich on the side, but sometimes we just got to have the cheese--hold the bread. We created our own variation of this simple, yet delicious soup by topping it with a sliced disc of our beloved Little Lucy Brie.
Prep Time: 10 min­utes
Cook Time: 30 min­utes
Total Time: 40 minutes
Ingre­di­ents
1 small yellow onion
2 tablespoon olive oil
1 tablespoon butter
1 large clove of garlic, smashed and peeled
2 tablespoons flour
3 cups chicken broth
1 ½ teaspoons sugar
1 sprig of fresh thyme
Salt and pepper to taste
1 28 ounces can of whole peeled plum tomatoes, pureed 
1 wheel of Redhead Creamery Little Lucy Brie
Instruc­tions
In a dutch oven, heat oil and butter over medium-low heat. Sauté onion and garlic until translucent
Add flour to make a roux. Stir for 2 minutes to allow the flour to cook.
Slowly add chicken broth to roux and bring to a boil to thicken.
Add tomatoes, sugar, salt, and pepper. Turn heat to low and let simmer for 30 minutes.
Slice Little Lucy Brie wheel into round discs.
To serve, ladle soup into a bowl. Place one disc of Little Lucy Brie into the center, and garnish with thyme.
Serve immediately!