Cheesy Pancetta Corn Chowder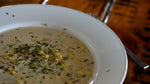 As the days become shorter and the air is crisp, we find ourselves craving something warm and comforting.  Cheesy Pancetta Corn Chowder is a creamy combination of goodness that's hearty enough to call dinner. 
Yield: 6 serv­ings
Ingre­di­ents
Pancetta
1 medium onion (finely chopped)
2 celery stocks (finely chopped)
2 carrots (grated)
3 potatoes (cut into ½" pieces)
1 ½ cup grated cheddar cheese we use Redhead Creamery Garlic Cheddar
3 cups fresh corn kernels
½ cup white wine
2 cups chicken stock
1 ½ cup whipping cream
1 ¼ teaspoon salt
Freshly ground black pepper
¼ teaspoon cayenne pepper
½ teaspoon cumin
½ teaspoon coriander
Fresh chopped parsley
Instruc­tions
Start with pancetta (we enjoy Red Table Meat's pancetta).  Cut pancetta in ½ in. cubes, and add to heavy saucepan over medium heat. Stir until brown and crispy. Remove browned meat, and save 4 tablespoons of the rendered fat. 

Add onion, carrot, potatoes and celery cook until softened.  

Next, add the 2 cups of chicken stock and white wine. 

Mix in the 3 cups fresh corn kernels; cook until corn is tender.  Sprinkle in spices, and be sure to taste! Add additional spice if needed. 

Place 1 cup of the cheese into the steaming mixture, stir, melted.  

Add whipping cream and browned pancetta, heat only until steaming.   Do not boil.  Pour into bowls and top with remaining shredded Redhead Creamery Garlic Cheddar, and a sprinkle of fresh parsley. Voilà!