French Green Bean Salad With Redhead Creamery's Little Lucy Brie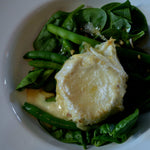 Whether you're looking for that something special to start out your dinner party, or a salad that IS your dinner, French Green Bean Salad with our Little Lucy Brie is the perfect package.
Ingredients
2 6oz. Redhead Creamery Little Lucy Brie
8 sheets frozen phyllo dough, defrosted
6 tablespoons butter, melted
Plain dry bread crumbs
Kosher salt and freshly ground black pepper
¾ lb. French string beans, trimmed
1 6oz.  jar pepper jam
8 oz. mesclun mix or spring salad greens
Instruc­tions 
Preheat the oven to 375 degrees.
Cut the 2 6oz. wheels of brie in half horizontally with a brie knife.   Place the stack of phyllo dough sheets on a cutting board and cover it with a slightly damp paper towel.  Place one sheet of phyllo on the board, brush with butter, and sprinkle with ¾ teaspoon bread crumbs, continuing until you have 4 sheets of phyllo stacked up.   Cut the phyllo in half crosswise to make two, 7x8 ½ inch rectangles.
Place one of the half wheels of Brie in the middle of one of the rectangles of phyllo.  Fold a corner diagonally over the cheese, and continue to fold in a circle around the wheel of Brie to cover it completely.  Place the phyllo-wrapped brie folded side up on a cookie sheet lined with parchment paper.  Repeat the process to cover the other 3 pieces of Brie.  Brush the outside of each phyllo-wrapped brie with melted butter.
Bring a large pot of salted water to a boil and add the beans.  Simmer for exactly 3 minutes, until crisp-tender.  Do not overcook.  Drain beans and immediately place in ice water.  This will stop the cooking, and allow them to keep their bright green color.
Bake the phyllo-wrapped bries for 10 minutes or until golden brown.
Place the salad greens in salad bowls, top with green beans, then place one phyllo-wrapped brie on top in each bowl.  Remove the cover from the jar of Pepper Jam, microwave for 30 seconds, or until it becomes liquid enough to pour.  Top each salad with 4-5 tablespoons of the warmed Pepper Jam and serve immediately.