North Fork Whiskey Washed Munster Summer Salad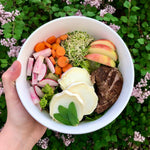 Fresh veggies and a good steak can only be made better with some #ridiculouslygood cheese. We put together a salad we really like, but add whatever's currently popping out of your garden! Make it your own!
Ingredients
Romaine Lettuce
Radishes
Carrots
Alfalfa Sprouts
Honeycrisp Apple
Grilled Steak
Fresh Sage
Balsamic Vinegar & Olive Oil
Instruc­tions
Chop it all up and slap it together! You can make this anyway you please!
For a perfect balsamic vinaigrette, mix equal parts balsamic vinegar & olive oil with a pinch of salt and a few cracks of pepper and whisk away!