Battered Brie Curds Recipe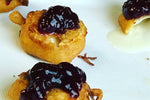 Decadent and easy to pop into your mouth, these battered beauties of brie are a perfect savory/sweet combo for summer spreads at your next party.
Prep time: 25 min
Cook time: 5 min./batch
Ingredients
1 cup all-purpose flour
2 tablespoons cornmeal
1-1/2 teaspoons baking powder
1/4 teaspoon salt
Dash onion powder
3 tablespoons shortening
3/4 cup 2% milk
1 large egg
2-3 Little Lucy Brie
Oil for deep-fat frying
Instruc­tions
1. In a small bowl combine the flour, cornmeal, baking powder, salt and onion powder; cut in shortening until crumbly.
2. Whisk milk and egg; stir into flour mixture just until moistened.
3. Cut brie in half, then in cubes before dipping in batter.
4. Drop battered brie in 375* oil for about 30 sec, flipping to brown both sides.
5. Serve with your favorite jam, honey or caramel sauce.