Summer's Perfect Cheese Platter Recipe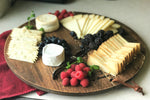 Entertaining this summer? This fresh, delicious cheese platter will delight your guests and leave them asking for more! This summer, serve Redhead Creamery's finest artisan cheeses at your 4th of July or Labor Day parties and watch them disappear!
Prep time : 5-15 min depending on size of spread
Cheese platters are summer's perfect appetizer. Easy to prepare and typically eaten quickly... there's no need to repackage and put it away!
At Redhead Creamery we believe in simplicity when it comes to creating a beautiful cheese plate. It can be as simple as 1 cheese and a few berries, or a larger spread for entertaining more people. 
If you're wanting to wow people's tastebuds this summer, be sure to include a couple cheeses that you know your guests will love, but then include one or two that YOU love - knowing that your guests may have never tried them before. This creates a conversation piece and encourages people to try new things.

Finally, spruce up your summer platters with seasonal berries, vegetables, jams or jellies and a few light crackers. It adds beautiful color and a refreshing change from the heavy winter foods we are used to (in Minnesota anyways...).
Ingredients
1-3 Cheeses you think your guests will love
1-2 Cheeses YOU love!
Seasonal, fresh summer berries & veggies
1-2 Light Crackers
Summer Jams or Jellies
Instruc­tions
Slice hard cheeses for display
Wash and cut (if necessary) fresh fruit and vegetables
Display sliced and unsliced (brie, munster) cheeses, fruit, berries, jams and crackers on a platter or nice plate.
Serve, and watch it disappear!