Cheese Curd and Pear Mostarada Braid Recipe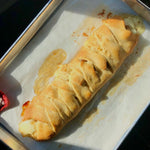 Up your breakfast game! This snazzy looking meal is done in less that 30 minutes and people will ask how on earth you did it. Sophisticated flavor meets easy and cheesy. That's our kind of meal.
Yield: 4-8 serv­ings
Ingre­di­ents
Instruc­tions
Begin by preheating your oven to 375 degrees F and lining a baking sheet with parchment paper or a silicone mat.
Place the cheese curds in a strip down the center (the long way) roughly 3 inches wide.
Place the pear mostarda on top of the cheese curds. We like to use the whole jar, but of course that's up to personal preference. Salt to taste.
With a sharp knife, cut strips about 1.5 inches wide along the sides-they don't need to be perfect! Make sure you leave about half an inch between the slice and the filling. This step is fairly forgiving. It will be easier with strong even strips, but there is no need to stress!
Criss-cross the strips over the curds and mostarda. If you do both ends first, it looks nice, neat and contains spillage a bit.
Now's the time to brush on your egg wash! It's not necessary, but it gives the braid a beautiful golden crust.
Bake your braid for 13-15 minutes, or until the insides are gooey and the crust is golden brown! Enjoy!
Tip: Letting your cheese curds age a bit in your fridge allows the proteins to relax- giving you more melting! Great way to use up left overs- or curds that won't squeak!