Honey Garlic Shrimp and Red Temper Grits Recipe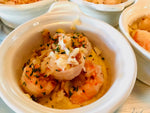 A Southern classic with a Minnesotan twist-ridiculously good cheese! Our Honey Garlic Shrimp and Red Temper Grits are creamy, spicy, savory, and sweet.
Prep Time: 30 min­utes, depending on how fast you can peel and chop garlic
Cook Time: 35 min­utes
Total Time: Roughly 60 minutes
Ingre­di­ents
½ lb. large shrimp, deveined and detailed
6-8 cloves of garlic, 2-3 minced, remaining sliced thin
2 tbls of local honey
Heavy pinch of kosher salt
Little pinch of red pepper flakes (or a big pinch, if you like more spice!)
2 Bay leaves
4 tbls. of olive oil
½ cup corn grits (not quick grits, time makes them tasty!)
1 cups of chicken broth
1 ½ cups of whole milk
4 tbls. of butter
About ½ cup grated Red Temper (a little extra for garnish doesn't hurt)
Salt and pepper to taste
Instruc­tions
Begin by marinating your shrimp in a medium bowl with 2 tbls of oil, minced garlic, honey, salt, red pepper flakes.
While the shrimp is marinating, begin toasting your grits on medium heat with 2 tbls of butter in a medium saucepan until fragrant. Once toasty, add the chicken broth and whole milk and bring to a boil, stirring frequently (a firm metal whisk and a silicon spoon are a perfect match for grits). Once boiling, turn the heat down to a simmer and cover, stirring frequently until creamy and smooth. This is a great time to begin the shrimp!
Heat the remaining 2 tbls of olive oil and bay leaves in a large pan on medium heat. Once the oil is shimmering, begin to fry the sliced garlic until lightly toasted.
Once the grits are smooth, take them off the heat and stir in the remaining 2 tbls of butter and Red Temper. Season to taste.
Place shrimp evenly in the pan with the sliced garlic, careful not to overlap the shrimp. Depending on the size of your pan you may have to cook the shrimp in two batches. Shrimp cooks quickly, so they only need about 2-3 minutes on each side. Once the shrimp are pink on both sides and throughout, you're ready to serve!
-->