Redhead Creamery's Poutine Recipe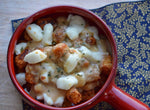 Originating in Quebec, Canada, our version of cheese curds smothered in gravy embraces the crispy tot and a thick chicken gravy.
A dish to be shared with someone, if you're nice, our poutine is the definition of ridiculous. 
Ingredients
½ lb fresh Redhead Creamery Cheese Curds
2-3 cups tator tots, baked according to package instructions
1 cup chicken gravy, homemade or store-bought
Fresh parsley, chopped for garnish
Instruc­tions
Turn on oven broiler to high
Place half of the baked tator tots in the bottom of a large soup bowl or small crock.  Sprinkle with half the cheese curds.  Repeat.
Place dish under the broiler and heat until cheese begins to brown.  Take out and turn oven off.
Pour warm gravy over the curd and tot bowl and sprinkle with the fresh parsley.
Grab a fork and enjoy while it's hot!