Apple Crisp Baked Brie Recipe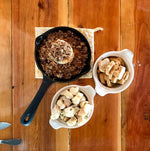 For chilly winter nights or bright Sunday mornings, this sweet and crunchy Baked Little Lucy is sure to be a favorite at your table.
Prep Time: 20 min­utes
Cook Time: 25-45 min­utes
Total Time: Roughly 60 minutes
Ingre­di­ents
1 wheel of Little Lucy Brie
3 tbsp. butter, divided
1 large apple, such as Honeycrisp, diced
2 tbsp. packed brown sugar, divided
1/4 tsp. ground cinnamon, divided
Kosher salt
1/4 c. old-fashioned oats
Small handful of pecans (we like Treat's Candied Pecans!), roughly chopped
1 tbsp. plus 1 tsp. all-purpose flour
Sliced baguette or crackers for serving
Instruc­tions
Preheat oven to 350° and place your Little Lucy Brie in a small skillet. (You can find the perfect one from Lodge here or here)
Melt 1 tablespoon butter in a small nonstick skillet over medium heat. When butter is melted, add diced apple, 1 tablespoon brown sugar, 1/8 teaspoon cinnamon, and a pinch of salt. Cook, stirring occasionally, until apples are tender but still maintain their shape, 10 to 12 minutes. Spoon apple mixture onto and around the brie in the skillet.
In your empty skillet, melt remaining 2 tablespoons butter. You may find that the residual heat is enough for this step. Add oats, pecans, flour, remaining tablespoon brown sugar, and remaining 1/8 teaspoon cinnamon. Season with a pinch of salt and use your hands or a rubber spatula to combine.
Scatter oat mixture over top of brie and bake until cheese is melty and oat topping is crisp, 25 to 30 minutes. If your Little Lucy is young, an extra 10-15 minutes may be needed for an ooey gooey baked brie.
Serve with sliced baguette or Effie's Oatcakes for dipping.